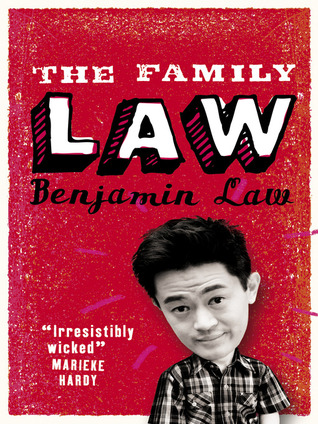 A vivid, gorgeously garish, Technicolor portrait of a family. It's impossible
not to let oneself go along for the ride and emerge at the book's end enlightened, touched, thrilling with laughter.' – Marieke Hardy
Meet the Law family – eccentric, endearing and hard to resist. Your guide: Benjamin, the third of five children and a born humorist. Join him as he tries to answer some puzzling questions: Why won't his Chinese dad wear made-in-China underpants? Why was most of his extended family deported in the 1980s? Will his childhood dreams of Home and Away stardom come to nothing? What are his chances of finding love?
Hilarious and moving,
The Family Law
is a linked series of tales from a wonderful new Australian talent.
Hey! Here's my review.
A collection of funny anecdotes about Benjamin's Chinese Australian family. I laughed out loud several times, especially at his mothers blunt reactions to things.
I listened to the audiobook, narrated by the author, that I picked up free via Audible Australia. I've had it sitting there for ages and I'm glad I finally found the time to give it a go. Sometimes authors should stick to writing, but Benjamin did a great job of narrating his book.
★★★★
Where: Audible Australia
Format: audiobook