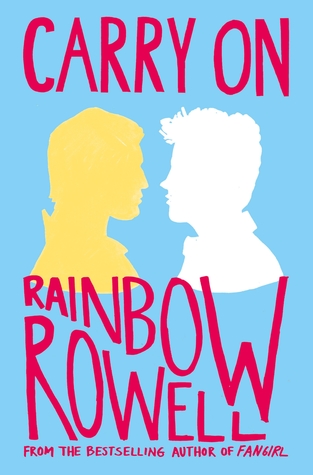 Simon Snow just wants to relax and savor his last year at the Watford School of Magicks, but no one will let him. His girlfriend broke up with him, his best friend is a pest, and his mentor keeps trying to hide him away in the mountains where maybe he'll be safe. Simon can't even enjoy the fact that his roommate and longtime nemesis is missing, because he can't stop worrying about the evil git. Plus there are ghosts. And vampires. And actual evil things trying to shut Simon down. When you're the most powerful magician the world has ever known, you never get to relax and savor anything.
Carry On is a ghost story, a love story, a mystery and a melodrama. It has just as much kissing and talking as you'd expect from a Rainbow Rowell story — but far, far more monsters.
Hey! Here's my review
I read Fangirl a couple of years ago and loved it. I was intrigued by the fanfiction snippets within Fangirl and when I found out Rainbow Rowell was writing her own version of Simon's story, I hunted down a copy. You don't need to have read Fangirl to enjoy this story. If you haven't read Fangirl, it's about a girl who wrote fanfiction about a popular fantasy series (very similar to Harry Potter). This book is Rainbow's take on the last book in that fictional series written by a fictional character.
It does start off in a similar world to Harry Potter, but with its own flavour. The characters are all quite different to Harry Potter and the plotline goes in a different direction. The story started out slow, catching up on the backstory of the previous (unwritten) years, then picked up the pace as we got into the mystery and the love/hate romance. I loved the characters and was cheering them on.
I received this book free from NetGalley in exchange for an honest review.
★★★★
Where: NetGalley
Format: ebook