In the ancient lands of Kakadu, it's not just the crocodiles you should be afraid of...
Helicopter pilot Ellie Porter loves her job. Soaring above the glorious Kakadu National Park, she feels freed from the heavy losses of her beloved family farm and the questions around her father's suicide. But when a search-and-rescue mission on the boundary of the older property reveals unusual excavation works, Ellie vows to investigate.
The last thing she needs is her bad-tempered co-pilot, Kane McClaren, interfering. The son of the current owners of the farm, her attraction to him is a distraction she can't afford, especially when someone threatens to put a stop to her inquiries - by any means necessary.
Ellie will have to trust Kane if she is to have any hope of uncovering the truth of what is really going on. Between Ellie's damage and Kane's secrets, can they find a way to open up to each other before the shadowy forces shut her up...for good?
Hey! Here's my review.
Annie Seaton captures the essence of the Northern Territory in this exciting romantic suspense. I live in the Northern Territory and thoroughly enjoyed the familiar landscape of Darwin and Kakadu. The topics of fracking and indigenous land rights were handled well. As for the crocodiles.... Beware of the crocodiles! If you ever come up here to visit, remember that they don't only live in Kakadu, we often have some in the lake at our local park in the suburbs.
I loved the dynamics between Ellie and Kane. They were both well developed, likeable characters. The romance and the suspense were well balanced, keeping me turning the pages.
I won a paperback copy of Kakadu Sunset through a giveaway on the Books, Babies, Being blog. I loved the fact that I began reading in Darwin, then finished reading on holiday and what turned out to be Annie Seaton's hometown. Small world! Another awesome Aussie author on my favourites list.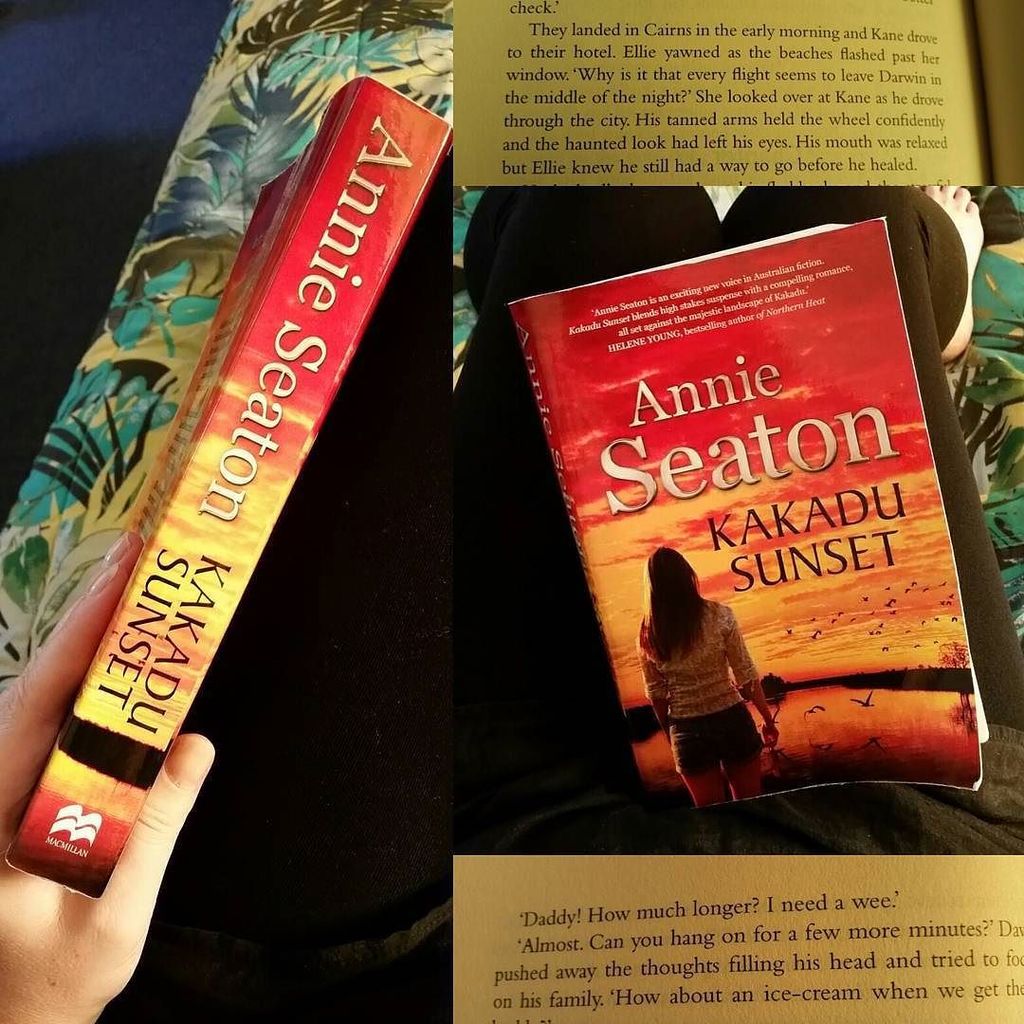 Brought a book to finish reading on our family holiday. The two lines I most related to - "Why is it that every flight seems to leave Darwin in the middle of the night?" & "Daddy! How much longer? I need a wee."
★★★★★
Where: Giveaway
Format: paperback
Purchase link