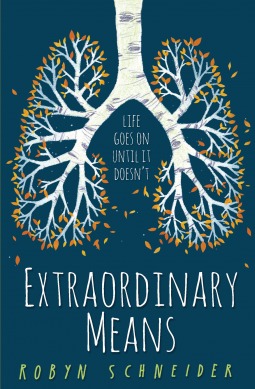 A bitter-sweet, coming-of-age novel that's perfect for fans of John Green and Stephen Chbosky.

When he's sent to Latham House, a boarding school for sick teens, Lane thinks his life may as well be over.
But when he meets Sadie and her friends - a group of eccentric troublemakers - he realises that maybe getting sick is just the beginning. That illness doesn't have to define you, and that falling in love is its own cure.

Extraordinary Means is a darkly funny story about true friendships, ill-fated love and the rare miracle of second chances
Hey! Here's my review.
A wonderful YA novel set in an alternate reality. Extraordinary Means is set in the current day in a world where tuberculosis has gone rampant and mutated into an incurable infectious terminal disease. The story takes place in a sanatorium for infected teenagers where the focus is on collecting data via digital wristbands for medical research, and the best treatment is rest. Themes of friendship, fitting in, being different, terminal disease and romance are explored.
The story is told from alternating perspectives of Lane and Sadie. I related to Lane the most because he was a bit more of a goody goody, like I was at that age. The story is told in such a realistic fashion that I had to Google total-drug-resistant tuberculosis to see if it was real (it's not - there are more details about that in the Author's Note at the end of the book).
I received this book free from NetGalley in exchange for an honest review. I would recommend this book to people who like John Green's books, and YA medical romance. To sum it up, I'll quote Gillian's review on Goodreads - The Fault in Our Alaskas.
Where: NetGalley

Format: ebook
Book Trailer