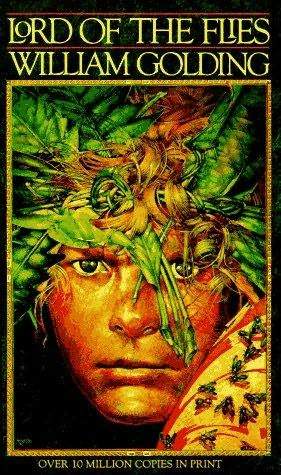 William Golding's compelling story about a group of very ordinary small boys marooned on a coral island has become a modern classic. At first, it seems as though it's all going to be great fun; but the fun before long becomes furious & life on the island turns into a nightmare of panic & death. As ordinary standards of behavior collapse, the whole world the boys know collapses with them—the world of cricket & homework & adventure stories—& another world is revealed beneath, primitive & terrible.
Lord of the Flies
remains as provocative today as when it was 1st published in 1954, igniting passionate debate with its startling, brutal portrait of human nature. Though critically acclaimed, it was largely ignored upon its initial publication. Yet soon it became a cult favorite among both students and literary critics who compared it to J.D. Salinger's
The Catcher in the Rye
in its influence on modern thought & literature. Labeled a parable, an allegory, a myth, a morality tale, a parody, a political treatise, even a vision of the apocalypse,
Lord of the Flies
has established itself as a classic.
Hey! Here's my review.
This book wasn't one that I had to read at school, so this was the first time I've read it. I knew it was about a bunch of kids stranded on an island, but I hadn't realised how dark it would get.
I could relate to the civilised group of kids but I couldn't understand the motivations of the kids who turned savage. I wonder how things would have turned out if there were some girls in the mix?
I found the writing simple and poetic. There is symbolism throughout the book, though I didn't take the time to delve into this. It is not a long book, but I took longer than I expected to finish it. I kept getting distracted by other books.


★★★
Where: My bookshelf ( I have had it so long I don't remember where I got it)
Format: paperback