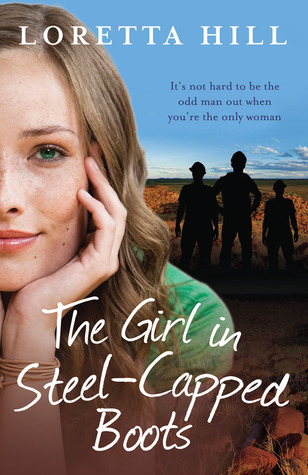 Let me burst your city bubble for you. This is the Pilbara. And it's the Pilbara that makes the rules'

Lena Todd is a city girl who thrives on cocktails and cappuccinos. So when her boss announces he's sending her to the outback to join a construction team, her world is turned upside down.

Lena's new accommodation will be an aluminium box called a dongar.

Her new social network: three hundred and fifty men.

Her daily foot attire: steel-capped boots.

Unfortunately, Lena can't refuse. Mistakes of the past are choking her confidence. She needs to do something to right those wrongs and prove herself. Going into a remote community might just be the place to do that, if only tall, dark and obnoxious Dan didn't seem so determined to stand in her way ...
Hey! Here's my review.
I've read lots of Aussie outback romance set in cattle stations, so it was great to read one set in the Pilbara in a fly in fly out mining related construction setting. I love that the main character was a female engineer and that the author had personal experience in this industry. Engineering and the construction industry are generally a male dominated area and it was great to see how the main character carved out a place for herself in that setting. A bit of romance made it even more fun. A fun read and I plan to continue the series sometime soon.
★★★★
Where: Local library
Format: paperback