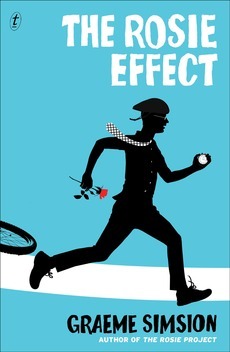 THE ROSIE PROJECT WAS COMPLETE BUT I WAS UNPREPARED FOR THE ROSIE EFFECT.
GREETINGS. My name is Don Tillman. I am forty-one years old. I have been married to Rosie Jarman, world's most perfect woman, for ten months and ten days.
Marriage added significant complexity to my life. When we relocated to New York City, Rosie brought three maximum-size suitcases. We abandoned the Standardised Meal System and agreed that sex should not be scheduled in advance.
Then Rosie told me we had 'something to celebrate', and I was faced with a challenge even greater than finding a partner.
I have attempted to follow traditional protocols and have sourced advice from all six of my friends, plus a therapist and the internet.
The result has been a web of deceit. I am now in danger of prosecution, deportation and professional disgrace.
And of losing Rosie forever.
Hey! Here's my review
I loved The Rosie Project, a 5 star read. The Rosie Effect is the sequel. It's wasn't quite as good as the first one, but better than alot of the 4 star books I've read recently, so I'm giving it 5.
Set in New York, it's lacking the Aussie feel I loved in the first book. Don and Rosie are settling into married life and Rosie is pregnant. Don is as good as ever. I love the writing style that puts me inside his head. A great insight into a highly functioning person on the autism spectrum. Rosie is lacking the spark she has in the first book, but I could still relate to her even though I found her behaviour frustrating at times.
★★★★★
Where: Local library request
Format: paperback
This book is available to purchase from Amazon here:
The Rosie Effect: A Novel