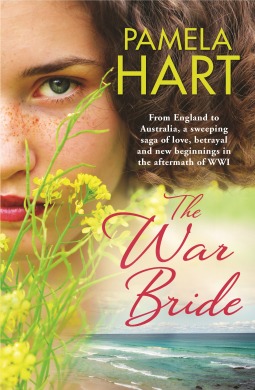 LOVE. BETRAYAL. NEW BEGINNINGS. A young English war bride makes a new life in Australia in this romantic story set on the stunning coast of Sydney, by the author of THE SOLDIER'S WIFE.
January, 1920. Young Englishwoman Margaret Dalton is full of excitement as she arrives to begin a new life in the warm, golden land of Australia. She leaves behind the horrors of WWI and can't wait to see her husband, Frank, after two years' separation. But when Margaret's ship docks, Frank isn't there to greet her and Margaret is informed that he already has a wife . . .
Devastated, Margaret must swap her hopes and dreams for the reality of living and working in a strange new city. And just as a growing friendship with army sergeant Tom McBride gives her a steady person to rely on, news arrives that Frank may not have abandoned her. Where should Margaret's loyalties lie: with the old life or with the new?
Hey! Here's my review.
This love triangle set in Sydney during the 1920s had me twisted up in as many knots as Margaret as she tried to make the right decision between Tom and Frank. My opinion changed back and forth throughout the novel and I was rapt with her final decision.
I loved the authentic Aussie setting and felt immersed in the culture of the time. The writing was descriptive without being flowery. This was the first book I've read by Pamela Hart and I'm looking forward to reading more of her work.
I listened to the audiobook edition, which I received free from the publisher in exchange for an honest review. The narrator was fabulous, perfectly suited to this book. she spoke clearly and at a good pace. Her characterisations brought the story to life.
★★★★★