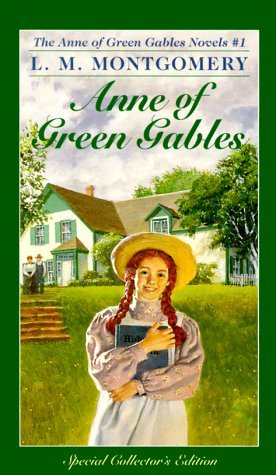 As soon as Anne Shirley arrived at the snug, white farmhouse called Green Gables, she knew she wanted to stay forever... but would the Cuthberts send her back to the orphanage? Anne knows she's not what they expected -- a skinny girl with decidedly red hair and a temper to match. If only she could convince them to let her stay, she'd try very hard not to keep rushing headlong into scrapes or blurt out the very first thing she had to say. Anne was not like anybody else, everyone at Green Gables agreed; she was special -- a girl with an enormous imagination. This orphan girl dreamed of the day when she could call herself Anne of Green Gables.
Hey! Here's my review.
I loved this book as a teen and haven't read it for years. I loved it even more this time around. I was reading another book that mentioned Anne of Green Gables several times, and I couldn't help but pick it up and read it again.
I read it via audiobook this time - the free Librivox recording, narrated by Karen Savage. Karen did a great job of narrating and portrayed the non stop chatter of a teenage girl well. The only issue I have with Librivox is that at the beginning of each chapter, the narrator announces that "This is a Librivox Recording" etc, which throws you out of the story, then you have to get back in. Not to hard to cope with in exchange for a free recording though.
The classic language was beautiful to listen to. I'd forgotten how funny this book was too. Looking forward to reading it with my daughter when she is a bit older.