Hey Everyone!
Many of my favourite books that I've read this year were written by HarperCollins authors. I won't list them all, but I really enjoyed
Love at First Flight by Tess Woods
. I was playing around on the HarperCollins website and came across
Authonomy
.
Authonomy is an online community where aspiring authors can upload their manuscripts and get feedback from readers. It is free to access for both readers and writers. As well as being a great resource to find books to read for free or get constructive feedback, every month 5 manuscripts chosen to be reviewed by HC editors for possible publication!
Authonomy has a chatty forum section, a blog section full of great tips as well as a section full of books to read. You can search for a book to read by genre, popularity, whether the complete book is available and whether it is downloadable.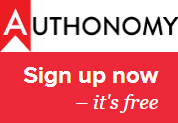 **Edit** Authonomy is now closed.