Hey Everyone!
I shared our review of
Iggy and Me
back in June when we read the whole series. I got a bit behind in all my reviews, so here is a wrap up of the rest of the series.
Iggy and Me and The Happy Birthday
by
Jenny Valentine
My rating:
5 of 5 stars
I usually interview my 5 and 7 year old kids for the reviews of the books I read them as a bedtime story, but I got a bit slack and left it too long before talking to them, so the last three books have mixed up in their minds.
They both enjoyed this one and stayed engaged in the everyday antics of the story. These series is perfect for beginner readers or to read a chapter or two aloud to your kids before bed.
Iggy & Me on Holiday
by
Jenny Valentine
My rating:
5 of 5 stars
My 5 and 7 year old kids loved this book. They were intrigued with the campervan so I had to look up images to show them what it was like. This book made such an impression on them (and me) that I planned a campervan holiday for our family when we finished reading. We just got back and had a ball. My kids were amazed by the magical slide out bed in the roof too. This is my favourite book of the series.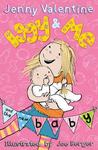 Iggy and Me and the Baby
by
Jenny Valentine
My rating:
5 of 5 stars
I read this to my 5 and 7 year old kids as a bedtime story over a few nights. They both related to the characters in the book and began asking me if they could have a baby brother or sister. Luckily for me, Iggy's mum already had all the excuses lined up, so I could just repeat them to my kids.
We all loved seeing the world through Flo's eyes, Iggy's quirky antics and the fun interactions between their parents. Amusing for adults and children alike, a great series.
We had a fabulous family holiday, inspired by book three of this series.
We drove down the Great Ocean Road in Victoria,
London Bridge - yes it fell down ... I did walk all the way out many years ago though.
then up to the Grampians
Family hike up to the Pinnacle
and back through my hometown of Ballarat.
Reliving childhood memories of feeding the swans at Lake Wendouree